26 May 2022
---
Nature, the environment, local places and communities, zero emissions and ecological quality. We welcome Ecobnb, MUV's new partner that will support the Traveler's Challenge, the June competition. Let's find out more!
Ecobnb, la community dedicata la turismo responsabile.
Ecobnb is a community for sustainable travellers from all over the world to find and book their holiday in harmony with nature. A platform that brings together sustainable travellers who are respectful of the environment, local places and communities and eco-friendly facilities. From the organic farmhouse surrounded by nature, to the zero-emission bed & breakfast in an old Italian village, from the treehouses to the igloo in the ice, from the bio-hotel to chalets and mountain retreats without CO2 emissions.
To become a member of Ecobnb, accommodations must have at least 5 of 10 environmental requirements: organic food, green building, 100% renewable energy, solar thermal panels for hot water production, ecological cleaning products, waste recycling, car-free accessibility, use of energy-saving lights, water flow reducers and recovery and reuse of rainwater.
Ecobnb is also a digital space for discussion on the topic of sustainable tourism. Travellers not only use the site to book green stays in Italy and abroad, but also suggest itineraries they have travelled, sharing their experiences.
But how can we really travel in an eco-sustainable way?
To reduce our ecological footprint while on holiday Ecobnb suggests some basic tips: choose a nearby destination, avoid airline flights, prefer eco-friendly means of transport, appreciate organic and local products and, last but not least, choose eco-friendly accommodation, which therefore meets the criteria mentioned above.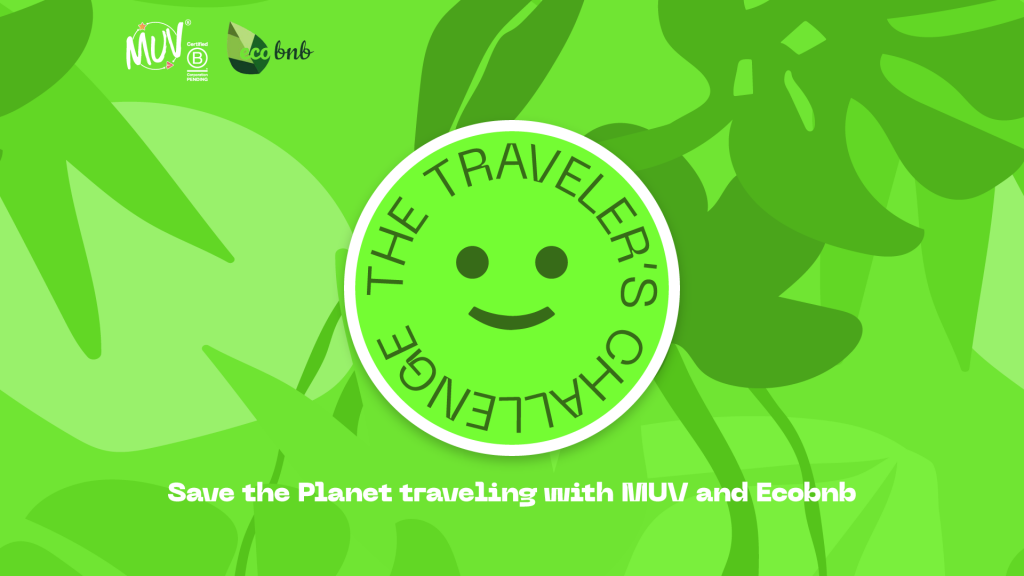 The Traveler's Challenge, the competition for real travellers.
It was easy for us to recognise Ecobnb as the perfect partner for the first official summer challenge. The Traveler's Challenge is open to everyone, travellers and non-travellers from all corners of the globe, and will be played from 1 to 30 June. After downloading the free MUV app, you join the challenge and start earning points with every sustainable journey. On foot, by bicycle, scooter, public transport or electrically. The goal is to climb the rankings and place in the top ten to win prizes from Ecobnb. For the first place winner, a discount code worth €50, and for those between second and tenth place, a discount code worth €25, both to spend on their next Ecobnb eco-holiday.
And if you still don't know where to go on holiday, don't worry; the code is valid until summer 2023 (read the rules). In the meantime, get inspired by these top ways to travel eco-friendly.
As always, at MUV, we play, we do good for ourselves and the environment, we travel eco-friendly and we support facilities that are committed to tackling climate change. What are you waiting for to join the Traveler's Challenge?