20 June 2020
---
In this post, we explain why it is important to improve our mobility habits, (even without MUV) by providing 6 (+1) useful information.
The risks associated with a sedentary lifestyle are known as well as the effects of pollution on our health and on our planet.
Even before the Covid-19 emergency transportation was the fastest-growing cause of greenhouse gas emissions and if studies on the correlation between coronavirus and pollution were to be confirmed, it is definitely time to take action.
1. Sedentary lifestyle is a major underlying cause of death, disease, and disability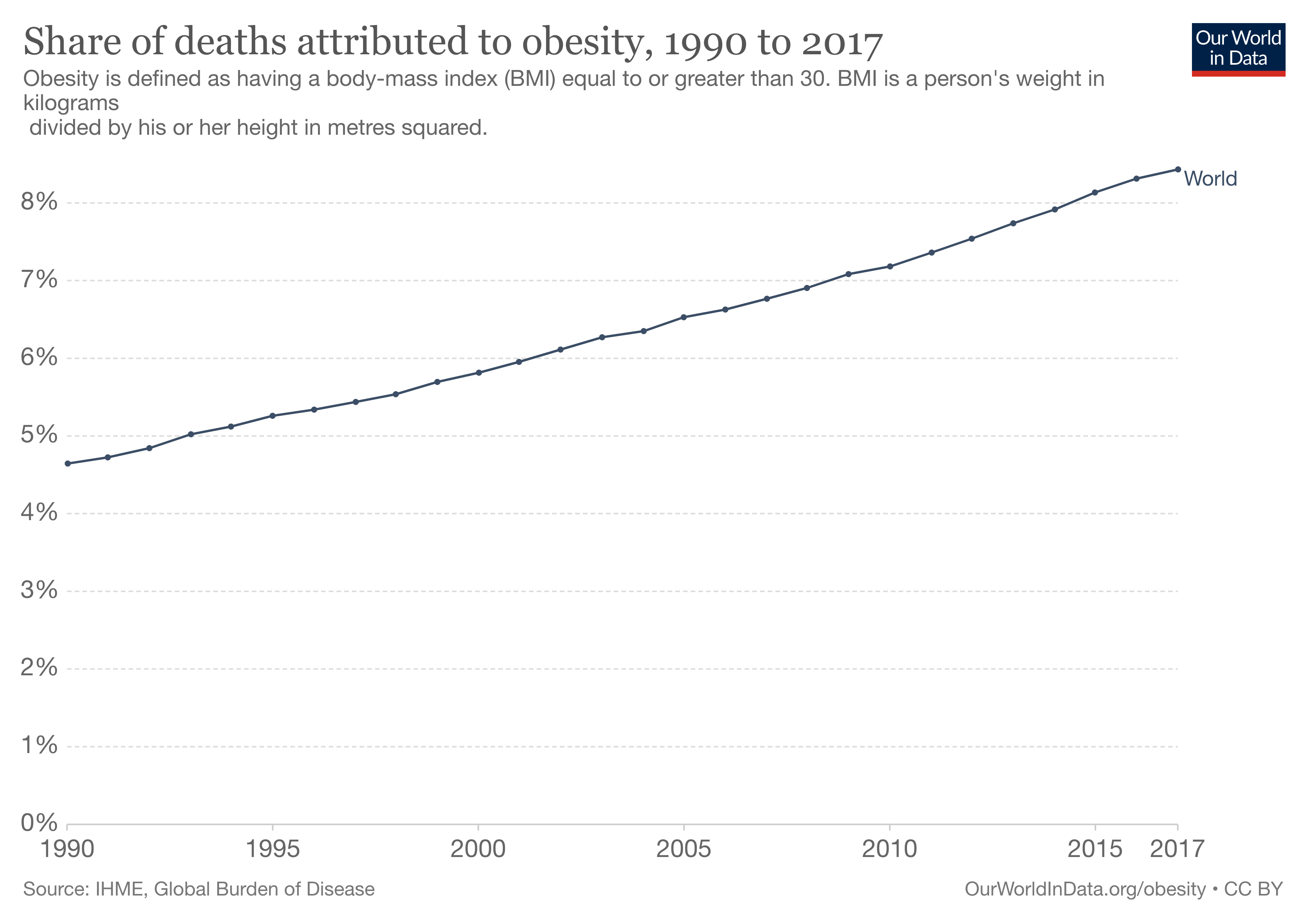 Obesity is one of the leading risk factors for early death and the increase in the mortality rate in recent decades is attributable to an increasingly sedentary lifestyle.
Weight gain occurs when more food energy, measured in kilocalories, is consumed, than is needed to compensate for the energy expenditure consumed during daily activities.
Over the past few decades the world has witnessed:
a large decrease in physically demanding work with a consequent insufficient motor activity;
an increase in supply of calories. In the 1960s, the global average supply of calories was 2200kcal per person per day. By 2013 this had increased to 2800kcal.
This means there are two potential drivers of the increase in obesity rates in recent decades: either an increase in kilocalorie intake i.e. we eat more; or we expend less energy in daily life through lower activity levels. Both elements are likely to play a role in the rise in obesity.
2. Mortalities attributed to air pollution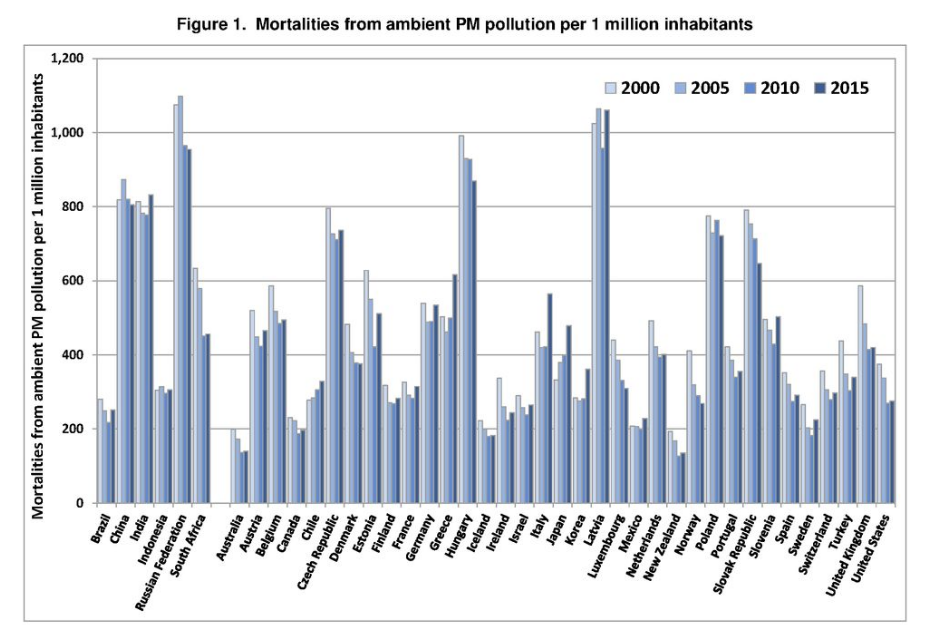 The level of air pollution has become the main environmental cause of premature mortality worldwide and the increase in mortality and the 21st century has witnessed a more or less uninterrupted increase in mortalities both in the BRIICS (Brazil, Russia, India, China and South Africa) and in the OECD area (Organization for Economic Co-operation and Development).
This is a function of factors such as population growth and economic development.
In some cities the concentrations of air pollution, especially in Asia, already far exceed the safety levels defined by the World Health Organization but from a wider viewpoint (just look at the graphic below), mortality rates have been rising across the board in the most recent period with the main exceptions being amongst those already burdened with the very highest rates.
3. Global Warming impacts on our ecosystem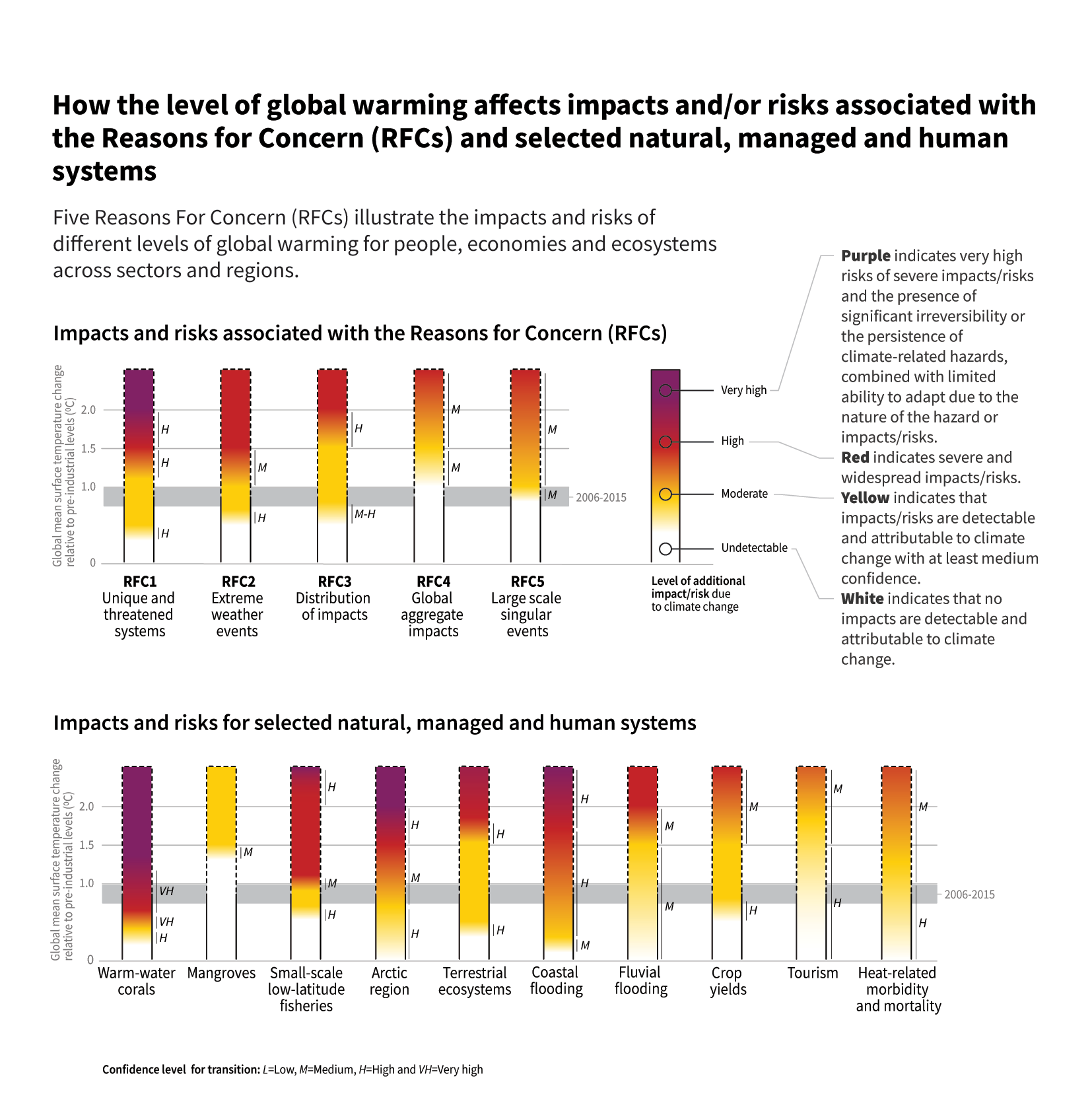 Five integrative reasons for concern (RFCs) illustrate the implications of global warming for people, economies and ecosystems and were introduced in the IPCC Third Assessment Report.
This literature was used to make expert judgments to assess the levels of global warming at which levels of impact and/or risk are undetectable (white), moderate (yellow), high (red) or very high (purple).
RFC1 Unique and threatened systems: ecological and human systems that have restricted geographic ranges constrained by climate-related conditions and have high endemism or other distinctive properties. Examples include coral reefs, the Arctic and its indigenous people, mountain glaciers and biodiversity hotspots.
RFC2 Extreme weather events: risks/impacts to human health, livelihoods, assets and ecosystems from extreme weather events such as heat waves, heavy rain, drought and associated wildfires, and coastal flooding.
RFC3 Distribution of impacts: risks/impacts that disproportionately affect particular groups due to uneven distribution of physical climate change hazards, exposure or vulnerability.
RFC4 Global aggregate impacts: global monetary damage, global-scale degradation and loss of ecosystems and biodiversity.
RFC5 Large-scale singular events: are relatively large, abrupt and sometimes irreversible changes in systems that are caused by global warming. Examples include disintegration of the Greenland and Antarctic ice sheets.
4. Transport and CO2 emissions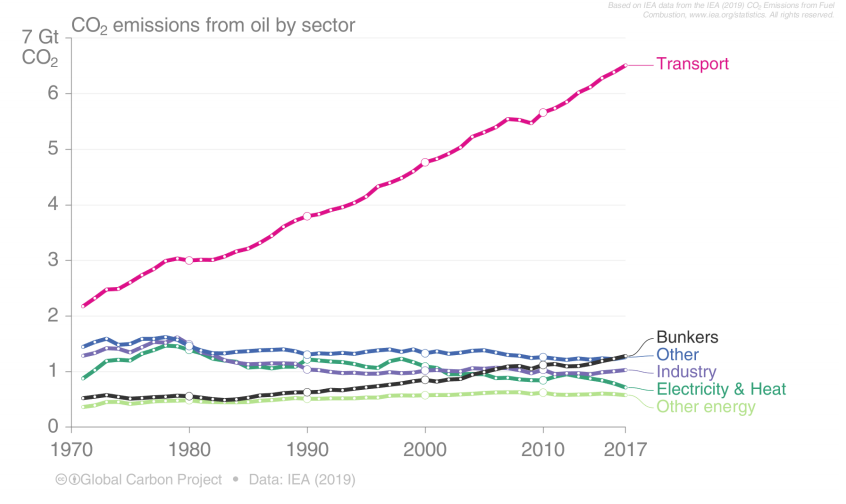 We are well aware of the vital importance that transportation plays in our society and our quality of life depends on an efficient and accessible transport system. At the same time, transport represents the main source of CO2 emissions from oil with almost linear growth over five decades.

Source
5. Road transport and pollution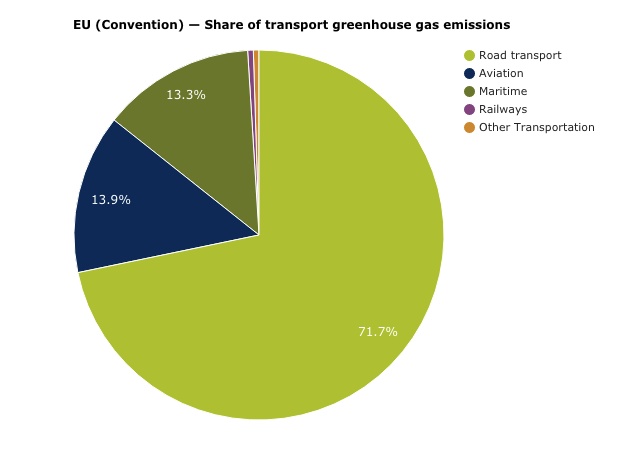 Total greenhouse gas emissions from transport are split into road transport, railways, domestic navigation, domestic aviation, international aviation and maritime transport.
In 2017, road transport was responsible for almost 72% of the total greenhouse gas emissions from transport. Of these emissions, 44 % were from passenger cars, 19 % came from heavy-duty vehicles and 9 % from light commercial vehicles.

Source
6. COVID-19 mortality and air pollution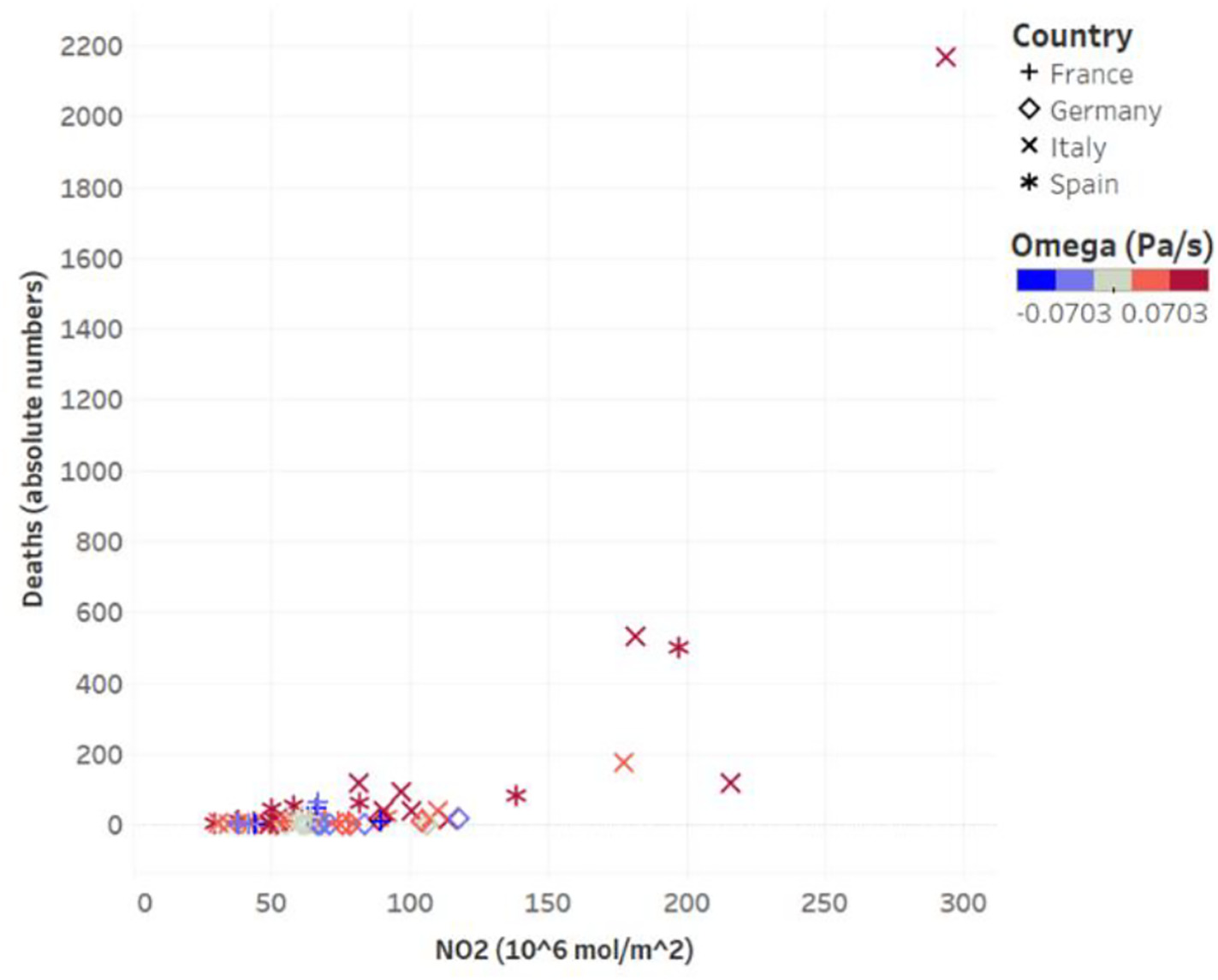 Long-term exposure to Nitrogen dioxide (NO2) may cause serious effects on health such as hypertension, diabetes, heart and cardiovascular diseases and even death.
In order to examine the relationship between long-term exposure to NO2 and coronavirus fatality, spatial analysis has been conducted and combined with the number of death cases taken from different administrative regions in Italy, Spain, France and Germany. Results show that out of the 4443 fatality cases, 3487 (78%) were in 5 regions located in north Italy and central Spain. The same regions that show the highest nitrogen dioxide concentrations combined with downwards airflow which prevent an efficient dispersion of air pollution.
+1 With MUV you can really change your mobility habits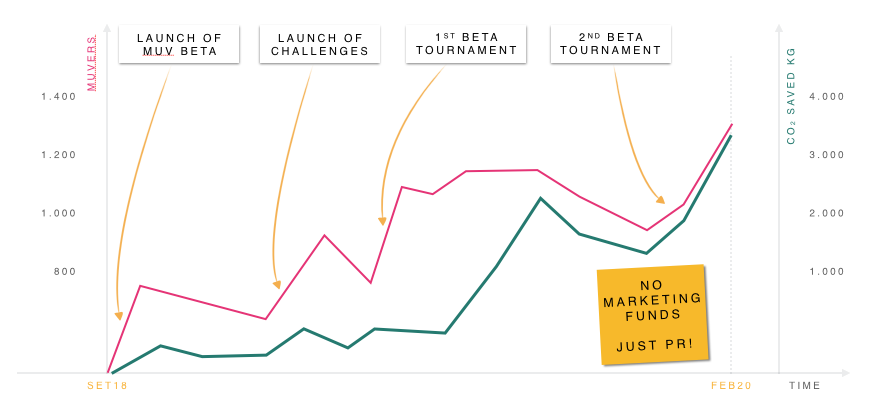 Since September 2018 MUV has helped to change the mobility habits of about 5,000 European citizens who, in addition to having recorded 260,000 km travelled sustainably, have improved their carbon footprint by an average of 32% (impact certified according to ISO 14064-2-2019).
One step at a time we can change the world. Together. Playing.