21 March 2023
---
The MOB tournament starts today, Monday 20 March. Thanks to the support of Fondazione Unipolis, as part of the two-year MOB – Movimento in rivoluzione project, girls and boys from 16 years of age are playing from all over Italy, moving by sustainable means.
MOB numbers
10 weeks, 154 teams, over 2000 participants from all over Italy.
The MOB tournament was preceded by an athletic preparation consisting of five challenges, held between October 2022 and February 2023 on the MUV app, during which, thanks to the players' sustainable travel, 2 tonnes of CO2 were already saved.
154 teams have accepted the challenge launched by the Fondazione Unipolis. From today until 29 May 2023 they will compete in a national team tournament: secondary schools, universities, oratories, church bodies, religious associations, sports and cultural organisations.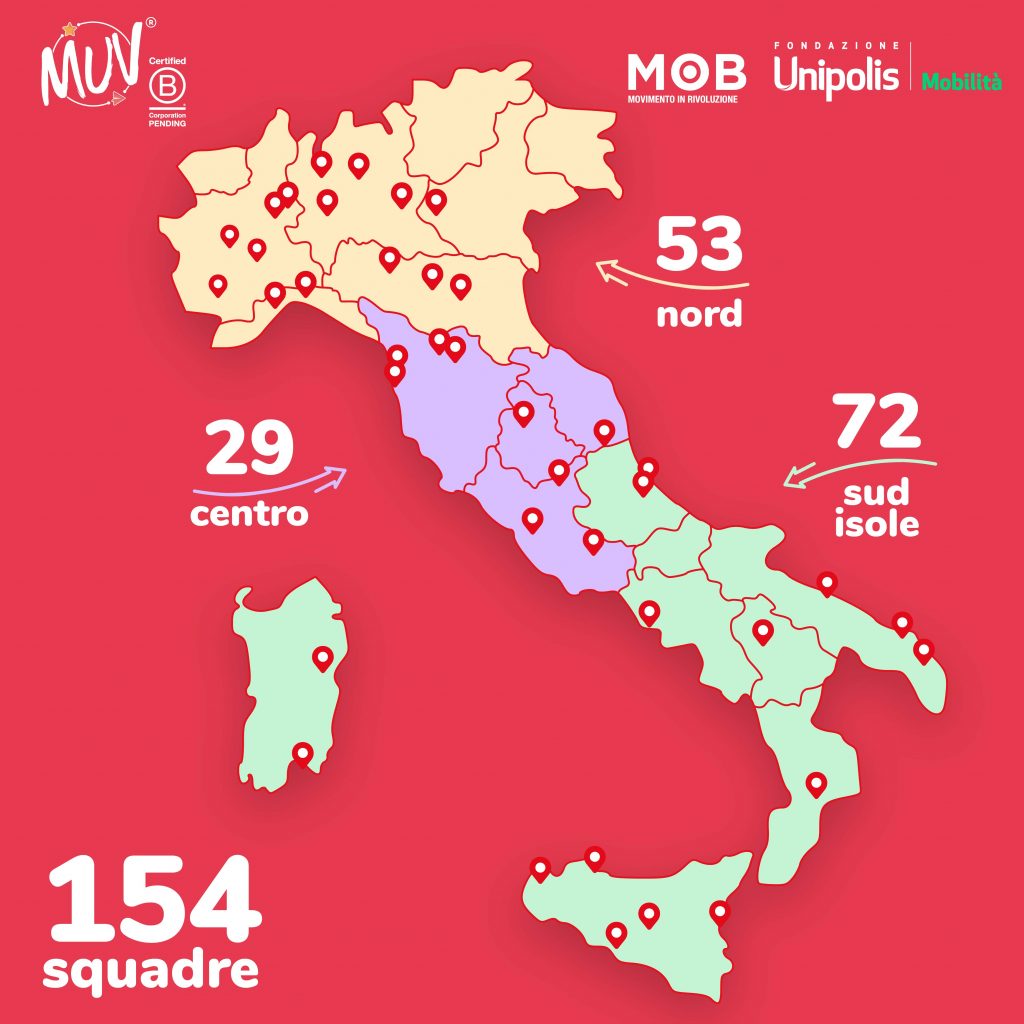 The MOB tournament
Applying the principles of gamification, we designed a phygital solution: the competition is played digitally on the MUV app and simultaneously in the urban space with the sustainable movement of the players. The tournament lasts 10 weeks and is structured as follows:
During phase 1 we will see 8 divisions of 19/20 teams each and the top 16 of each division will qualify for phase 2.
In phase 2, the 128 qualified teams, divided into 32 groups of 4 each, will take centre stage. The first of each group will qualify for phase 3.
In phase 3, the best 32 teams will compete in knockout matches until the grand final on 29 May 2023.
Who will prove to be the team with the most virtuous mobility habits?
MOB – Movimento in rivoluzione is the Fondazione Unipolis project whose name plays on the dual meaning of mobility and the multitude of people called together to revolutionise the very concept of sustainable mobility that must be placed at the heart of their experience as citizens of the communities in which they live. It responds to Goals 4 (Ensure inclusive and equitable quality education and promote lifelong learning opportunities for all) and 11 (Make cities and human settlements inclusive, safe, resilient and sustainable) of the UN 2030 Agenda for Sustainable Development.