16 September 2021
---
On the occasion of the European Sustainable Mobility Week, taking place from 16 to 22 September, we are happy to launch the Tournament between the Universities of Europe on Sustainable Mobility.
The protagonists will be students from 16 European universities, part of the U-MOB LIFE network, a project funded by the LIFE programme and aimed at creating a network of universities committed to sustainable mobility.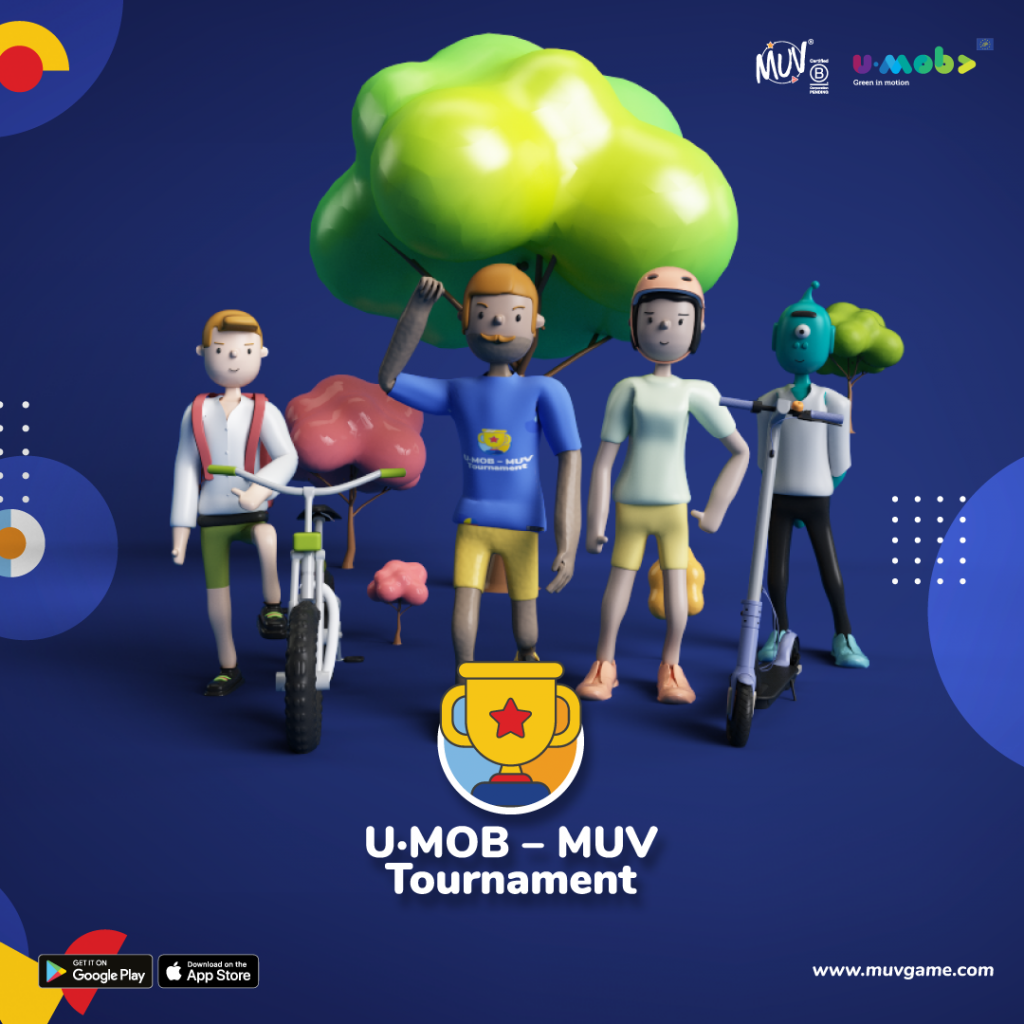 U-MOB LIFE
U-MOB LIFE is a European project funded by the European Commission under the LIFE programme. It aims to create a university network to facilitate the exchange and transfer of knowledge on best practices of sustainable mobility between European universities. The aim is to pursue a reduction in CO2 emissions through improved mobility of the university community.
How the Tournament works
Students and teachers will become players and represent their school from 20 September until 13 November 2021. Simply by downloading the MUV app and collecting points in their routine home-university journeys (and in their free time) on foot, by bike, by scooter, by carpooling or by public transport. All together, they contribute to their team score.
The top 3 players will receive prizes from the U-MOB LIFE network and the winning university will be publicly awarded at the final U-MOB Online conference on 17 and 18 November 2021.
The goals
We aim to improve urban mobility through an innovative approach that encourages citizens to move in a more sustainable way thanks to MUV. This will enrich the relationship and collaboration between the University and its educational community through values shared, and facilitate the development of new and more effective sustainable mobility policies. With this initiative, the University reaffirms its commitment to sustainability, protection of the environment, and CO2 reduction.
The participating Universities
Universidad del País Vasco
Universitat Politècnica de València
Universidade da Coruña
Universidad Las Palmas de Gran Canaria
Universidad Miguel Hernández de Elche
Universidat de Barcelona
Universidad de Málaga
Università di Parma
Università degli Studi di Torino
Politecnico di Torino
Link Campus University
Universidad de Alicante
Università degli Studi "Gabriele d'Annunzio"
University North – Sveučilište Sjever
Universitad de Navarra
Poznan University of Technology
Are you interested in turning your campus into an area of ​​0 emissions, enhancing awareness methods and changing habits towards more sustainable ones?