30 May 2023
---
Congratulations to the Super Breathtaking Wolves, the Azione Cattolica of Nuoro, the winning team of the MOB Tournament, the MUV sustainable mobility competition and the first phase of the two-year project of Fondazione Unipolis. Superprize of € 7.000, Ticketone and FUN! vouchers, and passes for Ypsigrock 2023. Category prizes also for the best school and organisation.
MOB final match between the Super Stubborn Foxes and the Super Breathtaking Wolves
It was a long-awaited and hard-fought week between the two most sustainable teams in the MOB tournament. On one side were the Latium foxes, the Associazione Italiana Cultura Sport from Frosinone, known for their ruthless attack and the great sustainable skills of players like bmberix72 and niko74. On the other side were the Sardinian wolves, the Azione Cattolica of Nuoro, with an almost impassable defence and sustainable mobility worthy of example.
And when the match seemed destined to take a turn in favour of the Super Stubborn Foxes, the sustainable Super Breathtaking Wolves came back and prevailed.
MOB numbers
Victory belongs to all the players who accepted MOB's challenge. From September 2022 to May 2023, more than 2.500 athletes from all over Italy demonstrated their sustainable mobility skills by competing in 5 athletic preparation challenges and 1 tournament with 154 teams as protagonists. Almost 500.000 sustainable kilometres were covered "on the field" of MOB and more than 6 million calories were burned thanks to sustainable travel. On foot, by bike, scooter, public transport, train and electric vehicles.
If you want to find out more, register for the "Mobilità a misura di GEN Z" event. On 7 June, we will be in Rome to report live on the MOB players' experience. We will analyze the data collected and see how our athletes preferred to move during these months of competition. And of course, we will unveil the CO2 saved certified by the MUV algorithm. Finally, a moment will be dedicated to awarding the winners.
MOB's weekly playoff report
We chronicled week after week, on our TikTok and Instagram channels, the exploits of the 32 teams that competed in knockout matches in the playoff phase of the tournament.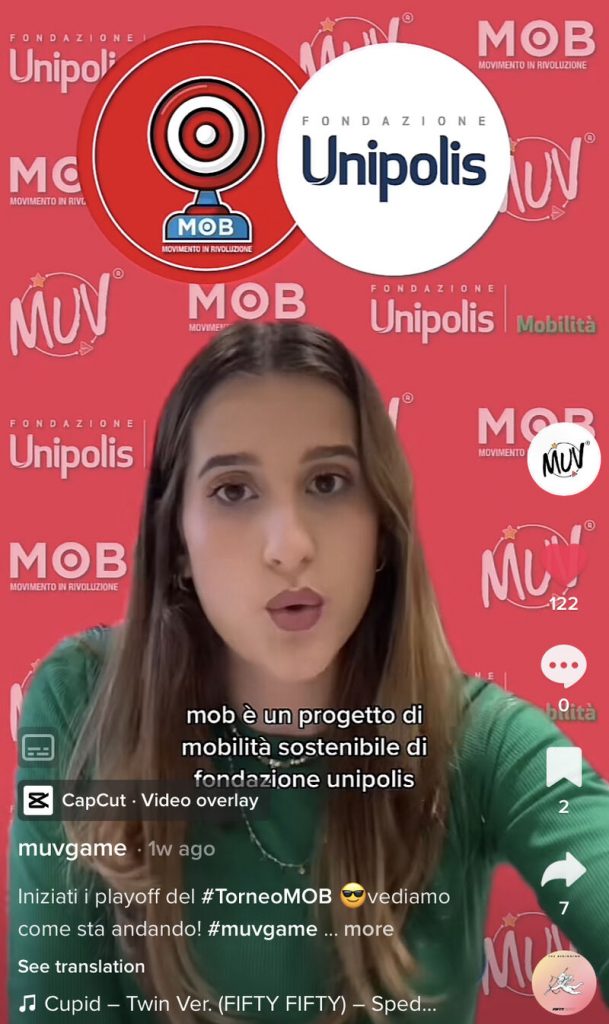 But sustainable mobility didn't stop even for the 96 teams that went out in the rounds and, despite being stopped in their tracks for prizes, played until the end in the "Playground MOB" parallel to the MOB Tournament, competed to win recognition badges.
During these months together, there was no lack of learning and gaming opportunities that allowed users to earn extra points:
The Masterclasses topics were "means of transport", "mobility plans" and "gamification" and allowed for PCTO recognition in addition to bonus points.
We launched Bonus Questions in the app once a week which, if answered correctly, gave the chance to earn between 200 and 500 extra points.
Through the MOB Stories contest, we asked users to post a photo of their sustainable vehicle on Instagram Stories, mention @muvgame and @fondazioneunipolis and immediately receive 500 extra points.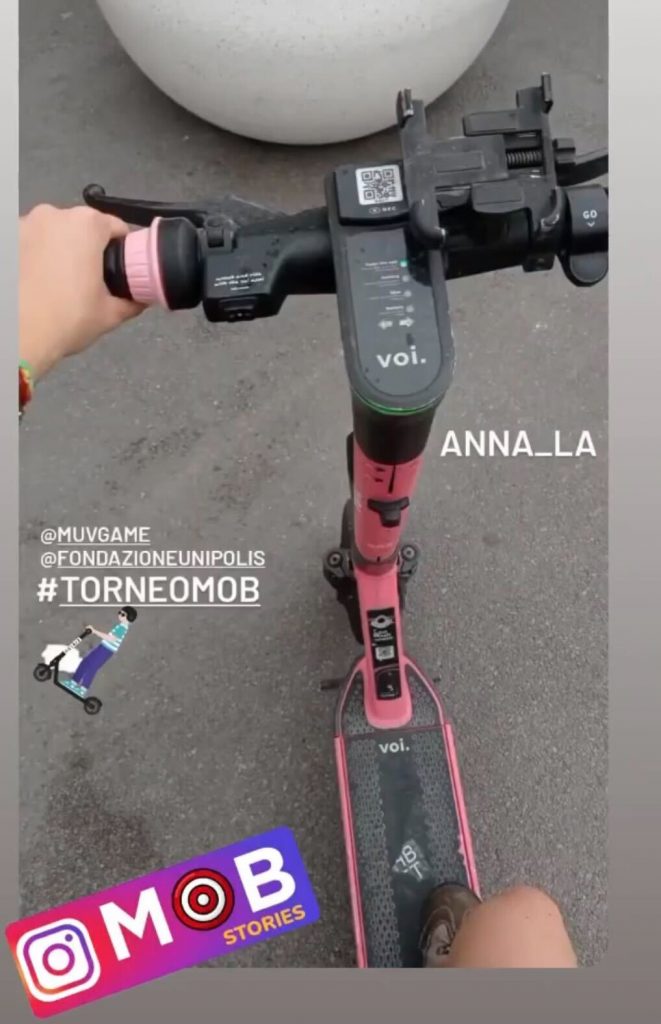 ---
MOB – Movimento in rivoluzione project
The tournament ends, but MOB's steps towards sustainable mobility continue. MOB is Fondazione Unipolis' free two-year project to bring young people closer to sustainable mobility and generate awareness on the issue, giving voice to their ideas and promoting their involvement in active citizenship experiences. Having completed the first gaming phase, which saw our MUV Game app play a leading role through five individual and collaborative challenges and a tournament, starting in September 2023, 50 young people will take part in a camp-festival proposing innovative and concrete ideas in the field of sustainable mobility. To participate and send in your proposals, there is time until 26 June.